Establishment of the academic calendar for the University of Wisconsin-Madison falls within the authority of the faculty as set forth in Faculty Policies and Procedures. Construction of the academic calendar is subject to various rules and laws prescribed by the Board of Regents, the Faculty Senate, State of Wisconsin and federal government. For additional dates and deadlines for students, see the Office of the Registrar's pages.
This is an accordion element with a series of buttons that open and close related content panels.
How to Add the Academic Calendar & Religious Observances Outlook Calendar
Within Outlook, click Calendar.
Next, click the Home tab.
In the Manage Calendars group, click Open Calendar.
Select Open Shared Calendar… from within the drop-down menu.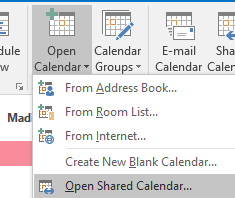 Type SoF Academic Calendar & Religious Observances in the Name box, or click Name to select it from the Global Address Book. This does not search against your personal contact list.

For more detail and related links, See the Office 365 KB article on Accessing Another User's Calendar