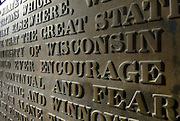 Monthly deadlines and events
Faculty Senator Updates
The first Faculty Senate meeting of the 2023-2024 academic year is on October 2. Please remember to submit updates to your district's senator and alternate information by early September. Senators may be elected to two consecutive three-year terms. After six years of consecutive service, a two-year lapse is required before serving again.
DEADLINES
Divisional Committees Tenure Review | Read more
Arts & Humanities: by noon on September 14 (for October 12 meeting)
Biological Sciences: by noon on September 8 (for October 6 meeting)
Physical Sciences: by noon on September 7 (for October 5 meeting)
Social Sciences: by noon on September 13 (for October 11 meeting)
University Lectures
The University Lectures Committee considers funding requests for distinguished lecturers by colleges, schools, or departments. These university-wide lectures must be open to the public and should enrich the general intellectual and cultural life of the university community.
Next monthly deadline for applications: September 15 | Read more
Slesinger Awards for Excellence in Mentoring
Slesinger Awards recognize excellent mentoring of women, trans, or non-binary faculty on the tenure track.
Nominations due: October 10 | Read more
Genevieve Gorst Herfurth Award
The Genevieve Gorst Herfurth Award recognizes a currently enrolled doctoral student in the social sciences who has demonstrated outstanding research and scholarly writing accomplishments.
Nominations due: December 15 | Read more
Hilldale Awards
Hilldale Awards recognize distinguished contributions to teaching, research, and service. One faculty member is honored in each division
Nominations due: December 15 | Read more
Hilldale Lectures
The Hilldale Lecture Series showcases distinguished thinkers with contributions to contemporary culture and science. One lecture is funded annually in each division.
Nominations due: December 15 | Read more
EVENTS
New Faculty Welcome for Tenure-Track Faculty
Monday, August, 28, 2023, 11:45 a.m.-4:15 p.m. | Register | Read more
Tuesday, August, 29, 2023, 8:45 a.m.-2:30 p.m. | Register | Read more
Faculty Networking Lunch: LGBTQ+ Faculty
Tuesday, September 12, 12:00-1:00 p.m.| Register
Faculty Senate Orientation
Information will be sent via email to all senators and alternates
Friday, September 29, 12:00-1:00 p.m.
Faculty Networking Lunch: Anna Julia Cooper & Nellie Y. McKay Fellows
Wednesday, October 4, 12:00-1:00 p.m.| Register 
Hilldale Lecture Series: Healthy Aging: The Interaction of Social and Biological Factors
Monday, October 30, 2023, 5:30 p.m.-6:30 p.m. | Read more