Extensions of the Tenure Clock for Faculty Impacted by the COVID-19 Crisis

Please see our waivers page for more information on tenure clock extension due to COVID-19.  COVID-19 tenure clock extension are available to any assistant professors whose mandatory review date is after December 31, 2020 including probationary faculty beginning in the summer of 2020 or the 2020-2021 academic year.
Governance News
Faculty document 2911 amended and approved Resolution in Support of Instruction and Training On Diversity, Equity, Inclusion and Social Justice

November 9, 2020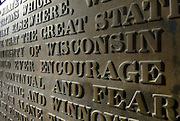 "Whatever may be the limitations which trammel inquiry elsewhere, we believe that the great State University of Wisconsin should ever encourage that continual and fearless sifting and winnowing by which alone the truth may be found."
–– Sifting and winnowing plaque at the entrance of Bascom Hall
The Wisconsin Open Meetings Law requires all governmental bodies to provide public notice of their meetings. "Every public notice of a meeting of such a governmental body must set forth the time, date, place and subject matter of the meeting in a form that is reasonably likely to inform members of the public and news media. Any such public notice must also set forth the subject matter of any contemplated closed session." To determine if your meeting is subject to the Open Meetings Law and for other information, see legal.wisc.edu/open-meetings.
COVID-19 UPDATE: If you are holding an Open Meeting via teleconference/videoconference, and there will be no physical location for the public to attend, please include the call in information or log in information in the agenda. If you need more information, please contact admin@secfac.wisc.edu.
For more information and to submit an open meeting notice visit https://secfac.wisc.edu/committees/generate-a-meeting-notice/