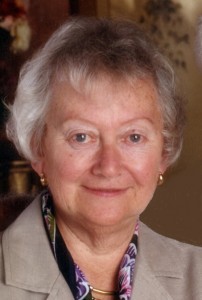 Doris Peyser Slesinger was born on 26 December 1927, in Flushing, New York.
After attending the High School of Music and Art in Manhattan, she studied mathematics and social sciences at Vassar College (B.A. 1949) and sociology at the University of Michigan (M.A. 1960). She enrolled in the University of Wisconsin's doctoral program in Sociology in 1970, at the age of 43, completing her doctorate in 1973, and joined the faculty in Rural Sociology [now Community & Environmental Sociology] one year later. She was promoted to the rank of professor in 1984 and was elected department chair in 1987, the first woman chair of a Department of Rural Sociology in the United States.
Doris raised three sons, Jeffrey, David, and Paul, with her husband, Jonathan A. Slesinger. In 1976, she married Edward Wellin, an anthropologist. She died on 1 October 2006, in Madison, Wisconsin.
A warm and gentle person to family, friends, and colleagues alike, Doris was an active scholar, an inspiring teacher, and an outstanding mentor. Much of her research and interests focused on the situations and health needs of under-served populations. She conducted more than twenty years of research on the health needs of migrant farm workers in Wisconsin, contributing important findings about a population not studied by other researchers. She became a friend of and advocate for migrant workers. She authored or co-authored four books and nearly 100 articles. Drawing on medical and nursing specialists, she wrote a series of more than a dozen Women's Health Brochures. About 50,000 copies, written in user-friendly Spanish and English prose, were distributed nationwide each year. With her second husband, Professor Edward Wellin, she worked for a year in the Valley of Ica, Peru, doing research on the maternal and child health needs of rural women. The experience gave her a deep appreciation of the commonalities of people, families, and food across cultures.
Doris was a dedicated teacher and advisor to all of her advisees and assistants. She devoted special attention to working with, training, and mentoring women. She was honored doubly as a mentor, when the Women Faculty Mentoring Program (now the Women, Trans, & Non-Binary Faculty Mentoring Program) named the Doris Slesinger Award for Excellence in Mentoring for her and selected her as the first recipient.